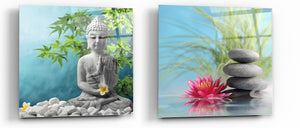 Bring some zen into your home with this tempered glass wall art featuring a Buddha statue and a beautiful lotus flower. In Buddhism, the lotus flower is associated with purity and a spiritual awakening. The perfect accent for any room in need of a calming nature. Printed on tempered glass making it the perfect piece for residential or commercial spaces. This is a set of 2 with each glass piece measuring 12" x 12" . Featuring tempered glass known as safety glass for its strength and durability. Comes ready to hang with premounted hooks.
Frameless, contemporary wall art
Tempered glass is strong and durable
Pre-mounted metal hook makes for easy hanging
Vivid colors
Set of 2; each measuring 12" x 12"