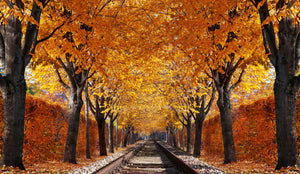 I want to go to unknown places and meet the people with unknown faces. There's nothing more thrilling than the feel of autumn, feel the crisp air as you take the journey to a Destination Unknown. Enjoy the autumn colors and listen to the leaves as they crunch beneath your feet. The beautiful October colors come to life in this glass wall art. The large 24" x 36" surface is sure to make a bold statement in any room.
Frameless, contemporary wall art
Tempered glass is safe, strong and durable
Pre-Mounted metal hooks for easy hanging
Size: 24" x 36"