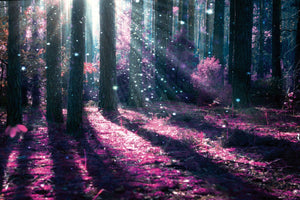 "There is a place, like no place on earth. A land full of wonder, mystery, and danger. Some say, to survive it, you need to be as mad as a hatter. Which, luckily, I am." Find your wonderland with this beautifully dreamy forest scene printed with vivid colors on a large 24" x 36" tempered glass surface. Captivating in a home or office and makes a great gift for someone special.
Frameless, contemporary wall art
Tempered glass is strong and durable
Hooks included for easy hanging
Vivid colors and a dreamy scene
Makes a great gift!